T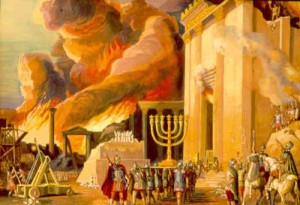 he first chapter in The Great Controversy deals with the destruction of Jerusalem. This was the consequence of their rejection of the gospel of Jesus Christ, brought during His life and ministry, and by the apostles after His resurrection.
The relevance of this history to the future is that it is a preview of the destruction that will come upon the whole world from the rejection of the last gospel call:
"The Saviour's prophecy concerning the visitation of judgments upon Jerusalem is to have another fulfillment, of which that terrible desolation was but a faint shadow. In the fate of the chosen city we may behold the doom of a world that has rejected God's mercy and trampled upon His law." (p. 36)
This destruction is the consequence of rejecting God's message, and therefore spurning His protective, restraining power. One of the classic statements that defines God's character comes from this chapter:
"God does not stand toward the sinner as an executioner of the sentence against transgression; but He leaves the rejectors of His mercy to themselves, to reap that which they have sown." (p. 36)
This idea is very contrary to the common view that Jesus Christ will return and burn up His enemies with fire. Rather, it presents the idea that sin is what destroys, not God; that God's part in the destruction is to "leave the rejectors of His mercy to themselves", to suffer at the hands of the powers of nature out of control, and the fierce passions of other men, out of control.
Read online: The Great Controversy, chapter 01 – "The Destruction of Jerusalem"
Download: ODP (Open Document Presentation) / PPTX (MS PowerPoint 2007+)