T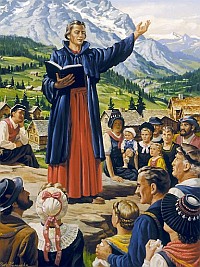 his chapter covers the period of the "church in the wilderness", or the time of the Dark Ages, when true Christianity had to hide away in order to survive the persecutions of Papal Rome.
In particular, it deals with the strongest and most well-known branch of Christians who maintained the primitive faith in these times: the Waldenses, who lived in the northern Alps of Italy. They actually possessed the Scriptures in their language, and wrote out portions of it (the only way of reproducing at that time).
In spite of the persecution and hardship they experienced, their youth were trained to be missionaries and traveled into different parts of Europe, sometimes as students, sometimes as peddlers. They carried with them portions of the Scriptures, which they would give out secretly, whenever there was a real spiritual interest. In this way, the seeds of truth were spread throughout Europe, which would eventually produce a rich harvest during the Reformation time, hundreds of years later.
Read online: The Great Controversy, chapter 04 – "The Waldenses"
Download: ODP (Open Document Presentation) / PPTX (MS PowerPoint 2007+)