Download: ODP (Open Document Presentation) / PDF
This is an extra Presentation based on chapters 19 to 22 of The Great Controversy. These chapters deal with the rise of the early Advent movement. The slideshow deals with many aspects of the Advent message. The topics covered are:
A Parallel of the First and Second Advent

Condition of the World
The Type of Kingdom Expected
The Reception of the Announcement
The Principles of the Kingdom
Establishing the Kingdom
Results of Proclaiming the Kingdom

The 2300-day Prophecy – joining the first and second Advent
The 2300-day Prophecy – Time Calculation
A Parallel of the First and Second Disappointments in both Advents
How to Deal with Disappointments
What God accomplished through the Disappointment
How Protestants followed Rome in rejecting the Word
The False Prophetic interpretations since adopted by Protestants
The Right and Wrong way to proclaim the Second Advent
What is a True Adventist?

The Two Kingdoms (Grace and Glory)
True and False Kingdoms (Spiritual and Carnal)
The Relationship of the Kingdoms
Spiritual and Carnal Interpretations of Prophecy
Adventists in Name vs. Adventists in Nature

Prophecy Regarding Time

False Excitement from Preaching "Time"
The Disciples after the Resurrection
What Understanding Did They Get at Pentecost?
What Should We Understand Today?
Warnings Against Time-Setting
Our Strength is in the Gospel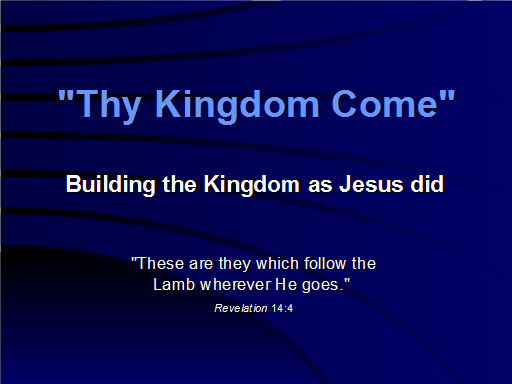 The first section of this presentation shows the close parallel between the First Advent message and time, the meaning of that message, and the reception it was given, to the Second Advent message and time. The first comparison is regarding the condition of the world at the time the message was given.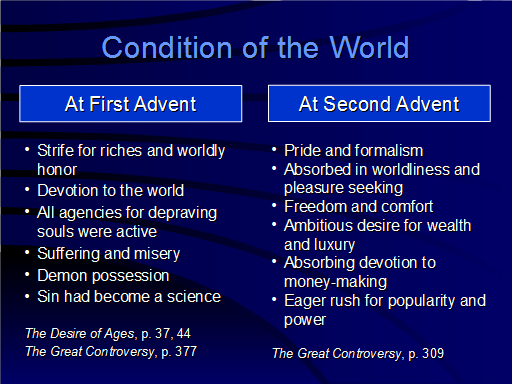 Just as the Jewish people in Christ's day wanted ease, comfort, and prosperity, so was there a similar desire among the professed people of God at the time of the Second Advent message: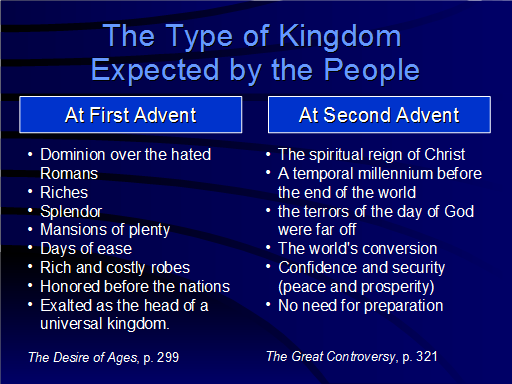 At the First Advent, numerous prophecies indicated that the time for the Messiah to appear was nigh. There was also the miraculous star appearing in the heavens, and the appearance of the wise men from the East. These preceded the proclamation of the gospel, and should have prepared the people. Likewise at the Second Advent time, various prophecies indicated the "time of the end", and there were signs in the heavens as well (the "dark day", the "falling stars", the "moon turning to blood"). And as well, various people around the world were awakened to the nearness of the time, sometimes from the most unexpected places. But as it was in the First Advent, few were really ready to receive the proclamation.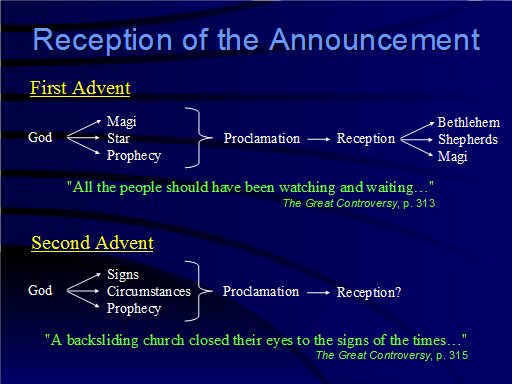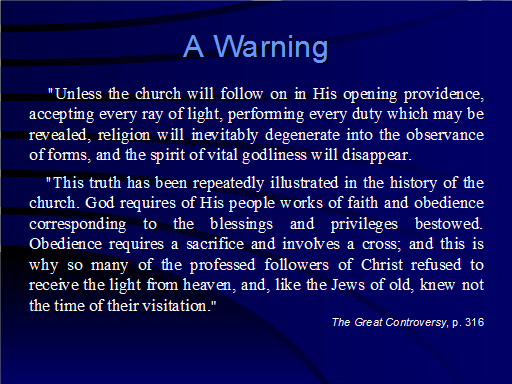 This slide shows the similarity in the gospel principles proclaimed at the First Advent to those now being proclaimed at the Second Advent. For a more in-depth study into the points mentioned of the Second Advent message, see the following publications: From Bondage to Freedom, Behold Your God, The Seven Angels, Entering into Gods Sabbath Rest, and The Principles of Reform, Part 1, Part 2, Part 3, Part 4.