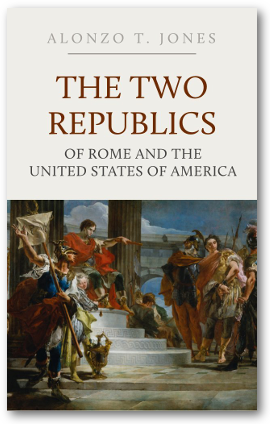 Here is a Slideshow by Andreas Dura, based on the book The Two Republics, by A.T. Jones. It consists of 63 slides that outline the important topics in the book. You can also read a bit more about this important book by clicking the image to the right.
The Two Republics traces the history of the republic of Rome, and how it eventually decayed into a false theocratical government used by the Catholic Church; and then compares this with the republic of the United States of America, and how it is prophesied to follow a similar course (in Revelation 13), and indeed already has come close in the past.
When A.T. Jones wrote this book, so-called "christian" laws were already being agitated before the government, and some local ones were passed into law. A.T. Jones was a champion of religious liberty, and opposed these laws before the Congress.
The history of Pagan and then Papal Rome stands as a warning to the United States, and to all nations, of what to expect if religion is married to the civil state. Persecution, strife, and national ruin are the sure results to follow.
---
Audio Study
This is a partial presentation of the Slideshow, given in Maryland in 2003. Andreas began presenting it, but soon ran out of time about one quarter of the way through and had to rush through the rest. Unfortunately, I don't have an audio recording that fully covers the entire presentation.
---
Slideshow
The Slideshow is available in PPTX (MS Office 2007 and newer) and ODP (LibreOffice) formats. Some of the last slides were incorporated into another study called "The Last Events" which was presented in 2003. When I have those files ready, I will link to them from here.
Download: ODP (Open Document Presentation) / PPTX (MS PowerPoint)