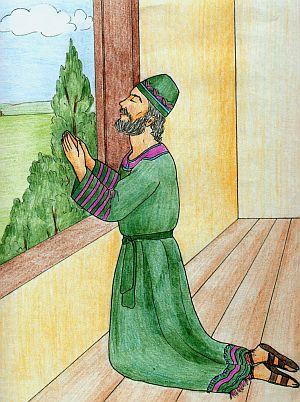 TThe book of Daniel in the Old Testament is the key to unlocking the prophecies of Revelation in the New Testament. It is well represented as the "little book" of Revelation 10:
Revelation 10
2 And he had in his hand a little book open: and he set his right foot upon the sea, and his left foot on the earth,
8 And the voice which I heard from heaven spake unto me again, and said, "Go and take the little book which is open in the hand of the angel which stands upon the sea and upon the earth."
9 And I went unto the angel, and said unto him, "Give me the little book." And he said unto me, "Take it, and eat it up; and it shall make your belly bitter, but it shall be in your mouth sweet as honey."
10 And I took the little book out of the angel's hand, and ate it up; and it was in my mouth sweet as honey: and as soon as I had eaten it, my belly was bitter.
The book of Daniel was to be "sealed" until the "time of the end":
Daniel 12
9 And he said, Go your way, Daniel: for the words are closed up and sealed till the time of the end.
Without going into many proofs now, I simply state that we have been in that "time of the end" for a few hundred years now. Therefore, the time for the understanding of the book of Daniel more extensively is now.
The verses quoted from Revelation 10 indicate that this study would at first be "sweet", or joyful, but that there is a bitterness in it. Historically, Adventists have applied this to the "great disappointment" in 1844, when according to their understanding of the prophecies, they expected Christ to come immediately, but He did not appear.
It was similar to the disappointment of the disciples when they expected Christ to bring in an earthly kingdom, but instead, He was crucified, and buried. Their hopes of an earthly kingdom were buried with their Saviour, and for a short time, they were in a very bitter experience of disappointment. But this did not last long, until they learned from their mistake, and a much more glorious plan unfolded before them, when Christ corrected their understandings.
So it was with Adventists as well. The angel told John, after he had eaten the book and his belly was bitter, that:
Revelation 10
11 And he said unto me, "You must prophesy again before many peoples, and nations, and tongues, and kings."
And so the book of Daniel continues to have significance, and is a part of that gospel which is to go to all the world, before the end comes.
But there is perhaps another aspect to the "sweet/bitter" experience of John. When the Christian experience is young and fresh, when a believer is in his "first love", everything is new and exciting. Life takes on a new sweetness. But when delays, disappointments, unfulfilled expectations, and pain come into the experience, there is bitterness.
An honest look at the prophecies of the Bible, will show the searcher that the standard of those faithful Christians who make it through the trials and troubles of the last days, is extremely high. They are to be the crown of the head, the finishing of Christ's mediatorial work to make a man "more precious than fine gold" (Isaiah 13:12), to be "without spot or wrinkle or any such thing" (Ephesians 5:27), to be "without fault before the throne of God", having the "Father's name written in their foreheads" (Revelation 14:1,5). Then this experience must be tested in the crucible of intense trial and temptation. It means "resisting unto blood" (Hebrews 12:4) in the warfare against sin.
To join the cause of Christ and stand for truth and righteousness is no light and flippant decision. Isaac Watts stated it well in the lines of this hymn written on the verse from 1 Corinthians 16:13:
Am I a soldier of the cross,
A follower of the Lamb?
And shall I fear to own His cause
Or blush to speak His name?
Must I be carried to the skies
On flowery beds of ease?
While others fought to win the prize,
And sailed through bloody seas?
Are there no foes for me to face?
Must I not stem the flood?
Is this vile world a friend to grace,
To help me on to God?
Sure I must fight, if I would reign
Increase my courage, Lord!
I'll bear the toil, endure the pain,
Supported by Thy word.
Thy saints, in all this glorious war,
Shall conquer, though they die;
They view the triumph from afar,
And seize it with their eye.
When that illustrious day shall rise,
And all Thy armies shine
In robes of victory through the skies,
The glory shall be Thine.
This struggle is a bitter one to human nature, and it will only get more bitter as the prophetic events unfold. But the light and grace that God pours on His people will bear them up, if they do not draw back.
So this section of the website is devoted to a series of slideshows on the book of Daniel. Most of them were prepared by Ralf Euerl, a member of our church in Germany. He shared them with me during an International Seminar many years ago. I've converted them from Microsoft Office PowerPoint to LibreOffice Impress (ODP) format, so that they are accessible to anyone, even those who do not possess Microsoft Office.